The word 'wash' can mean many different things. As a verb, the meaning is to clean with detergent and water or get carried in a different direction by flowing water.​
For example:
I washed the car and the dog today. (clean)
The flood water washed the village away. (carried by flowing water)
Wash is a regular verb. The past tense and past participle is washed.
phrasal verbs with wash
Phrasal verbs with 'wash' include:
Wash away (land/buildings removed by water)
Wash down (drink to help swallow)
Wash out (remove colour/stains/dirt etc.)
Wash up (clean the dishes)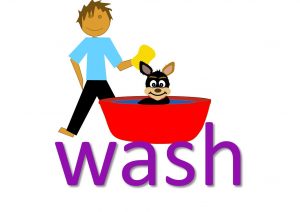 Let's learn the meaning of the phrasal verbs that contain the verb 'wash' in more detail and see some examples in use.