The word 'pass' can mean many different things. As a verb, the meaning is to move in a particular direction/go past or be successful.
For example:
I passed 12 ducklings earlier on my walk to work. (go past)
I didn't pass my exam. (be successful)
Pass is a regular verb. The past tense and past participle is passed.
phrasal verbs with pass
Phrasal verbs with 'pass' include:
Pass around/round (give to everyone)
Pass as (pretend to be something)
Pass away (die)
Pass back (return)
Pass by (visit briefly)
Pass down (give something to younger generations)
Pass for (be accepted as)
Pass off (fool)
Pass on (give something to someone)
Pass out (faint)
Pass over (ignore)
Pass through (visit briefly)
Pass to (give)
Pass up (decline an offer)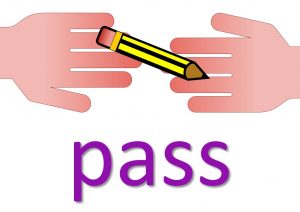 Let's learn the meaning of the phrasal verbs that contain the verb 'pass' in more detail and see some examples in use.