The word 'pick' can mean many different things. As a verb, the meaning is to choose or remove.
For example:
You have to pick either Joe or David. (choose)
I love picking flowers. (remove)
Pick is a regular verb. The past tense and past participle is picked.
phrasal verbs with pick
Phrasal verbs with 'pick' include:
Pick apart (criticise)
Pick at (scrape)
Pick off (remove)
Pick on (bully)
Pick out (select)
Pick through (look for something)
Pick up (lift from the floor)
Pick up after (clean someone else's mess)
Pick up on (notice)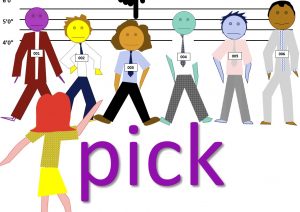 Let's learn the meaning of the phrasal verbs that contain the verb 'pick' in more detail and see some examples in use.