The word 'pack' can mean many different things. As a verb, the meaning is to fill a box or bag with items. or cram a large number of items into.​
For example:
I've packed my suitcase for my holiday. (fill)
There are 10 beds in my dorm, we're packed in like sardines. (cram)
Pack is a regular verb. The past tense and past participle is packed.
phrasal verbs with pack
Phrasal verbs with 'pack' include:
Pack away (put things where they belong)
Pack in (stop working)
Pack it in (stop doing something annoying)
Pack off (send someone away)
Pack out (fill a venue)
Pack up (stop working)​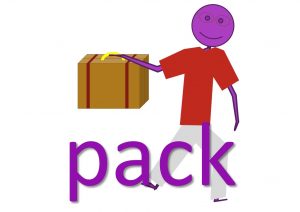 Let's learn the meaning of the phrasal verbs that contain the verb 'pack' in more detail and see some examples in use.