The word 'fill' can mean many different things. As a verb, the meaning is to become occupied.
For example:
The position has been filled. (become occupied)
The barmaid filled the wine glass to the top. (become occupied)
Fill is a regular verb. The past tense and past participle is filled.
phrasal verbs with fill
Phrasal verbs with 'fill' include:
fill in for    
meaning – a person acts in place of another
example – I can't believe no one is filling in for me whilst I'm on holiday.
fill in on
meaning – give someone information
example – Sir, I've filled them in on the section they missed.
fill in/out  
meaning – complete a form
example – You may leave once you've filled out all the necessary paperwork.
fill someone in
meaning – inform someone of the most up to date information
example – Karen filled me in on everything you discussed at the meeting.
fill up   
meaning – fill to the top
example – I've filled up the tank, I don't want to run out of petrol on the M5.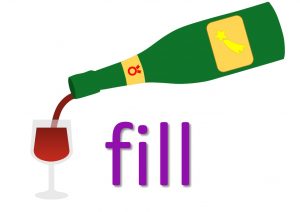 Let's learn the meaning of the phrasal verbs that contain the verb 'fill' in more detail and see some examples in use.