The word 'close' can mean many different things. As a verb, the meaning is to bring to an end and cover an opening.​​​​
For example:
The ticket office closes at 6 pm. (bring to an end)
Please close the window, it's freezing. (cover an opening)
Close is a regular verb. The past tense and past participle is closed.
FUN FACT – Close is a homograph. This means there is another word in English with a different meaning that is spelt the same as it (tricky, huh?). The verb 'to close' is pronounced with a voiced 's'.
phrasal verbs with close
Phrasal verbs with 'close' include:
close down
meaning – a shop or business permanently shuts
example – If we don't make £2000 this month, we'll have to close down.
close in
meaning – surround or get closer to something
example – The police are closing in on the killer, he will be behind bars very soon.
close off
meaning – shut something so people can't enter
example – We have to get off the beach, they are closing it off because of the shark attack.
close up
meaning – shut at the end of a time frame or join together
example – He closed up the folder and submitted it to the teacher.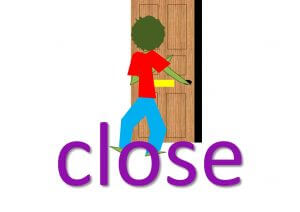 Let's learn the meaning of the phrasal verbs that contain the verb 'close' in more detail and see some examples in use.