The word 'whip' can mean many different things. As a verb, the meaning is to beat or move fast.​
For example:
The jockey whipped the horse to make it run faster. (beat)
The dog was whipping around the field after the hare. (move fast)
Whip is a regular verb. The past tense and past participle is whipped.
phrasal verbs with whip
Phrasal verbs with 'whip' include:
whip into
meaning – stimulate someone into a specified state
example – The commentators are whipping the crown into a frenzy.
whip off
meaning – remove quickly
example – Whip off your uniform and I'll wash it for you.
whip out
meaning – present something quickly
example – Mr. Barker whipped out his pen and signed the contract.
whip round
meaning – do something quickly
example – I don't want to spend too long in the supermarket, so I'll just whip round with my list.
whip through
meaning – do something quickly
example – I'll whip through section 5 as it's getting late, and I want to go home.
whip up
meaning – make something quickly or excite a crowd
example – The presenter whipped up the crowd before the headliners arrived on stage.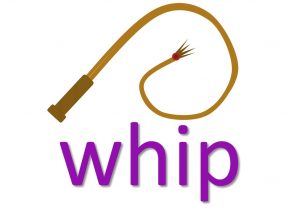 Let's learn the meaning of the phrasal verbs that contain the verb 'whip' in more detail and see some examples in use.