The word 'whip' can mean many different things. As a verb, the meaning is to beat or move fast.​
For example:
The jockey whipped the horse to make it run faster. (beat)
The dog was whipping around the field after the hare. (move fast)
Whip is a regular verb. The past tense and past participle is whipped.
phrasal verbs with whip
Phrasal verbs with 'whip' include:
Whip into (stimulate)
Whip off (quickly remove)
Whip out (present quickly)
Whip round (do something quickly)
Whip through (do something quickly)
Whip up (make something quickly)​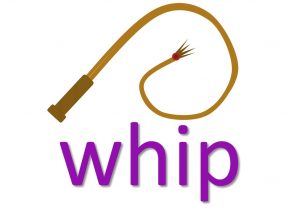 Let's learn the meaning of the phrasal verbs that contain the verb 'whip' in more detail and see some examples in use.