The word 'wait' can mean many different things. As a verb, the meaning is to stay where you are or to show someone is impatient.
For example:
Wait until the light turns green before you go. (stay)
Jimmy couldn't wait open his presents. (impatient)
Wait is a regular verb. The past tense and past participle is waited.
phrasal verbs with wait
Phrasal verbs with 'wait' include:
wait about/around
meaning – wait and do nothing
example – I waited around by the gate for ages, but you didn't show up.
wait behind
meaning – stay after other people have left
example – I waited behind after Pilates to talk to Mark but his girlfriend arrived.
wait in
meaning – stay at home as you are expecting a visitor
example – I waited in until 7:30, then I had to go to work.
wait on/upon
meaning – wait for results or serve people
example – I'm sick and tired of waiting on my kids. They destroy the house and don't lift a finger to help.
wait up
meaning – wait or stay awake until someone gets home
example – Wait up! I need to ask you a question.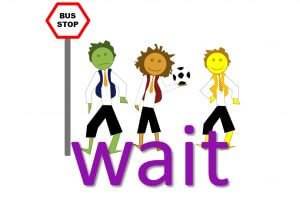 Let's learn the meaning of the phrasal verbs that contain the verb 'wait' in more detail and see some examples in use.