The word 'stand' can mean many different things. As a verb, the meaning is to have one's feet on the ground and be in an upright position or withstand without being damaged.
For example:
The audience stood up and clapped their hands. (an upright position)
The Beatles have stood the test of time. (withstand)
Stand is an irregular verb. The past tense is stood and the past participle is stood.
phrasal verbs with stand
Phrasal verbs with 'stand' include:
Stand about/around (wait and do nothing)
Stand aside (move out of the way)
Stand back (keep your distance)
Stand by (remain uninvolved)
Stand down (quit)
Stand for (represent)
Stand in for (take someone's work/responsibility)
Stand out (be different)
Stand up (move to a vertical position)
Stand up for (defend someone)
Stand up to (defend yourself)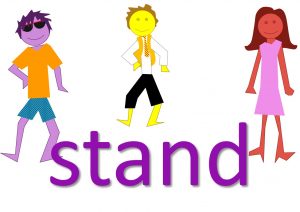 Let's learn the meaning of the phrasal verbs that contain the verb 'stand' in more detail and see some examples in use.