What does verb 'let' mean?
The word 'let' can mean many different things. As a verb, the meaning is to allow.
For example:
My mum lets me stay up until 11 at the weekend. (allow)
Let is an irregular verb. The past tense is let and the past participle is let.
phrasal verbs with let
Phrasal verbs with 'let' include:
Let down (disappoint)
Let in (allow entry)
Let in on (tell someone the secret)
Let off (not punish)
Let on (allow something to be known)
Let out (allow someone to leave)
Let up (become less intense)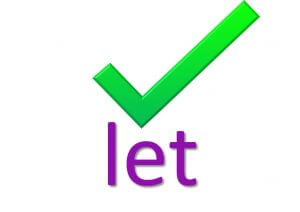 Let's learn the meaning of the phrasal verbs that contain the verb 'let' in more detail and see some examples in use.
You can download a table of phrasal verbs with let below.