The word 'hold' can mean many different things. As a verb, the meaning is to keep or grasp in your hands.
For example:
He is being held on suspicion of murder. (keep)
Kian can hold the shopping bags. (grasp)
Hold is an irregular verb. The past tense is held and the past participle is held.
phrasal verbs with hold
Phrasal verbs with 'hold' include:
Hold back (stop something happening)
Hold down (prevent something moving)
Hold off (stop someone attacking)
Hold on (wait)
Hold on to (keep)
Hold out (hold in front)
Hold out for (wait)
Hold together (keep intact)
Hold up (rob using violence)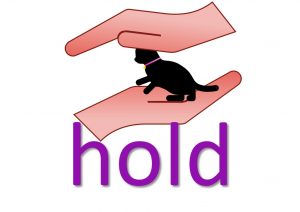 Let's learn the meaning of the phrasal verbs that contain the verb 'hold' in more detail and see some examples in use.