The word 'look' can mean many different things. As a verb, the meaning is to glance at a particular thing or to seem/appear.​
For example:
Look at my new shoes! They are ruined. (glance)
It looks as though my date isn't going to show. (seem/appear)
Look is a regular verb. The past tense and past participle is looked.
idiomatic phrasal verbs
Did you know phrasal verbs are sometimes used in idioms? See if you can spot any. If you don't know any phrasal verbs with 'look', click here to learn them.
idioms list with 'look'
don't look a gift horse in the mouth – don't be ungrateful, graciously accept gifts
e.g. I know you shouldn't look a gift horse in the mouth, but I really can't accept £500.
look a picture of health – appear very fit/healthy
e.g. Granny didn't look a picture of health, I think she's getting worse.
look a state – look horrible/awful
e.g. Andrew's wife looks a state, she used to be model material.
look after/out for number one – put your own needs before the needs of others
e.g. I don't care what anyone else thinks. I'm looking out for number one from now on.
look like a million dollars – look amazing
e.g. My girlfriend looked like a million dollars, so I proposed, and she accepted.
look over one's shoulder – be afraid that someone might do something bad to you
e.g. You'd better keep looking over your shoulder, one of these days I'm going to get you.
look someone square in the eye – look at someone directly
e.g. He looked me square in the eye and told me he was sleeping with my girlfriend.
look the part – dressed appropriately for the occasion
e.g. My baby looks the part in his Army uniform. He looks so grown up.
look what the cat dragged in – imply someone who has just arrived looks bad or you don't like them
e.g. Look what the cat dragged in. Do you remember her? It's that witch who lives on Southmead.
Let's see these idioms with pictures and meaning using real-life scenarios.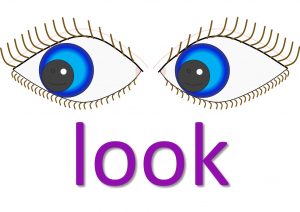 Psst…
Hey, did you know the verb 'look' has many phrasal verbs. Since you like idioms and phrases, you obviously want to improve your fluency and speak like a native.
Am I right?
I thought you might like to learn the phrasal verbs with 'look' too. They are very common in informal English and great to know/be able to understand if you happen to be speaking to a native. We use them all the time, like literally ALL the time.