The word 'give' can mean many different things. As a verb, the meaning is to buy The word 'give' can mean many different things. As a verb, the meaning is to transfer possession or allow.
For example:
I gave Sammy my jumper. (transfer possession)
My mum has given me permission to go to the party. (allow)
Give is an irregular verb. The past tense is gave and the past participle is given.
idiomatic phrasal verbs
Did you know phrasal verbs are sometimes used in idioms? See if you can spot any. If you don't know any phrasal verbs with 'give', click here to learn them.
idioms list with 'give'
don't give a monkey's – you don't care
e.g. I don't give a monkey's if the whole school are going to the party. You're grounded!
don't give two hoots about – don't care about someone/something
e.g. He doesn't give two hoots about me, he's more interested in drinking with his mates.
give one's right arm – you would do anything to do/get something
e.g. Lucy would give her right arm to meet One Direction.
give someone a bollocking – severely reprimand someone
e.g. The teacher gave the whole class a bollocking for breaking the interactive whiteboard.
give someone a dressing down – reprimand someone
e.g. The coach gave the players a dressing down at half time.
give someone a hard time – annoy/criticise/shout at/make trouble for someone
e.g. My friends are giving me a hard time over my receding hairline.
give someone a heads up – warn someone of impending difficulty/danger
e.g. Can you give Leon a heads up if the fuel gets below 20%?
give someone a leg up – help someone achieve something
e.g. My parents gave me a leg up so I could buy my first house.
give someone a run for their money – almost as good as the opposition
e.g. My 3 year old twins are giving me a run for my money.
give someone a tinkle – call someone on the phone
e.g. Sasha gave me a tinkle last night and told me the bad news.
give someone the boot – fire/dismiss someone from their job
e.g. Someone has been stealing from me. When I find out who, I'll give them the boot.
give someone the cold shoulder – ignore someone/be unfriendly on purpose
e.g. The girlfriend is giving me the cold shoulder. I must have done something wrong.
give someone the elbow – reject or dismiss someone
e.g. Sammy only worked with us for 3 weeks before he was given the elbow.
give someone the shirt off one's back – a generous person
e.g. I can always count on my uncle. He'd give me the shirt off his back.
give someone the time of day – be nice/pleasant/pay attention to someone
e.g. He's a great bloke, I always give him the time of day.
give someone/something the once over – quickly examine/check something/someone
e.g. I have a doctor's appointment. I want him to give me the once over before I leave for Kenya.
give something one's best shot – try your best
e.g. He gave it his best shot, but unfortunately, he didn't get the job.
give the game away – reveal the secret
e.g. You gave the game away when I begged you not to!
give the green light – permit/allow
e.g. The council have given the green light for a new school to be built.
give/lend someone a hand m- help someone
e.g. I'm moving house at the weekend. Do you fancy lending me a hand?
Let's see these idioms with pictures and meaning using real-life scenarios.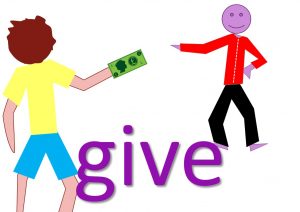 Psst…
Hey, did you know the verb 'give' has many phrasal verbs. Since you like idioms and phrases, you obviously want to improve your fluency and speak like a native.
Am I right?
I thought you might like to learn the phrasal verbs with 'give' too. They are very common in informal English and great to know/be able to understand if you happen to be speaking to a native. We use them all the time, like literally ALL the time.