The word 'send' can mean many different things. As a verb, the meaning is to post something to a different location or cause to be in a specified state.
For example:
I've sent a parcel to my mum. (post to a different location)
His aftershave sends the girls wild. (a specified state)
Send is an irregular verb. The past tense is sent and the past participle is sent.
phrasal verbs with send
Phrasal verbs with 'send' include:
Send away (make someone leave)
Send back (return)
Send for (request something)
Send in (arrange for a problem to be dealt with)
Send off (post something)
Send on (forward)
Send out (send to lots of people)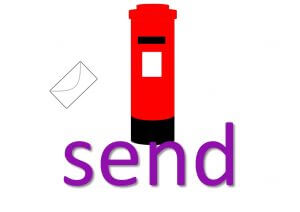 Let's learn the meaning of the phrasal verbs that contain the verb 'send' in more detail and see some examples in use.