The word 'put' can mean many different things. As a verb, the meaning is to place an object or bring into a particular state.
For example:
Put your hands up in the air. (place an object)
He put me in a difficult situation. (bring into a particular state)
Put is an irregular verb. The past tense is put and the past participle is put.
phrasal verbs with put
Phrasal verbs with 'put' include:
Put across (convey)
Put aside (save for later)
Put away (put something in its correct place)
Put back (return)
Put behind (leave in the past)
Put by (save)
Put down (drop an object)
Put down for (commit)
Put down to (give a reason)
Put forward (suggest an idea)
Put in (install)
Put in for (request)
Put off (postpone)
Put on (start wearing)
Put out (extinguish a fire)
Put through (experience something unpleasant)
Put together (assemble)
Put towards (make a financial contribution)
Put up (increase the price)
Put up to (encourage someone to do something)
Put up with (tolerate)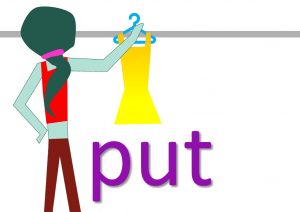 Let's learn the meaning of the phrasal verbs that contain the verb 'put' in more detail and see some examples in use.
idioms with verbs – PUT
Did you know that many idiomatic expressions (idioms) in English also contain a lot of verbs? Just like phrasal verbs, idioms are a major part of the English language (slang in particular). They are used constantly amongst native English speakers and are handy to know and understand.
Now you've learnt all the phrasal verbs with put, how about learning the idioms with put too?