The word 'hang' can mean many different things. As a verb, the meaning is to suspend someone or something in the air or from a surface.
For example:
I've hung all the washing on the line. (suspend)
Hang is an irregular verb. The past tense is hung and the past participle is hung.
phrasal verbs with hang
Phrasal verbs with 'hang' include:
Hang about/around (loiter)
Hang back (wait)
Hang in there (be positive)
Hang on (wait)
Hang on to (hold something)
Hang out (chill, relax)
Hang up (suspend, end a phone call)
Hang with (spend time with someone)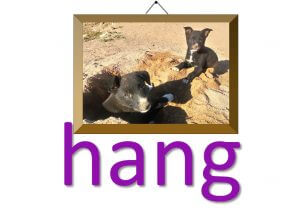 Let's learn the meaning of the phrasal verbs that contain the verb 'hang' in more detail and see some examples in use.