The word 'go' can mean many different things. As a verb, the meaning involves movement from one place to another or to leave.
For example:
I'm going to Lapland on Sunday. (movement)
Go away! You're being annoying. (leave)
Go is an irregular verb. The past tense is went and the past participle is gone.
phrasal verbs with go
Phrasal verbs with 'go' include:
Go about (do something)
Go across (move from one side/place to another)
Go after (chase)
Go against (opposite)
Go ahead (continue)
Go along with (agree)
Go around/round (visit, circulate)
Go at (attack)
Go away (disappear or go on holiday)
Go back (return)
Go by (pass)
Go down (decrease/sink)
Go for (attack or choose)
Go forward (proceed)
Go in (enter)
Go into (discuss in detail, enter )
Go off (explode, turn bad, dislike)
Go on (continue, happen)
Go out (leave)
Go over (visit, review)
Go past (pass)
Go through (examine, experience, enter)
Go through with (complete)
Go to (allocate)
Go together (complement)
Go towards (contribute, move closer)
Go under (become bankrupt, sink)
Go up (increase)
Go up to (reach, approach)
Go with (accompany nicely)
Go without (not have something)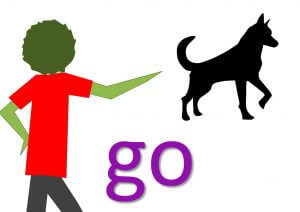 Let's learn the meaning of the phrasal verbs that contain the verb 'go' in more detail and see some examples in use.
idioms with verbs – GO
Did you know that many idiomatic expressions (idioms) in English also contain a lot of verbs? Just like phrasal verbs, idioms are a major part of the English language (slang in particular). They are used constantly amongst native English speakers and are handy to know and understand.
Now you've learnt all the phrasal verbs with go, how about learning the idioms with go too?