The word 'break' can mean many different things. As a verb, the meaning is to separate (by accident or due to age) or interrupt.
For example:
My sister broke my toy car. (separate)
My lie-in was broken by a noisy cat. (interrupt)
Break is an irregular verb. The past tense is broke and the past participle is broken.
phrasal verbs with break
Phrasal verbs with 'break' include:
Break down (stop functioning)
Break in/into (force entry)
Break out in (develop a skin condition)
Break out (escape)
Break something down (divide)
Break up (separate)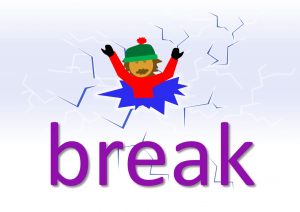 Let's learn the meaning of the phrasal verbs that contain the verb 'break' in more detail and see some examples in use.