Skating is the act of gliding over ground on wheeled boots or on ice with bladed boots. Competitive skating is called figure skating and can be performed individually or as a group.
Ice hockey and roller hockey are also played on skates.​
skating idioms and sayings
Many idioms originated from skating and here is a list of them with examples.
as cold as ice
meaning – unfriendly or very cold
example – Your hands are as cold as ice, put your gloves on.
break the ice
meaning – do something to reduce tension/awkwardness
example – Ronnie tried to break the ice with a joke but ended up offending everyone.
cheapskate
meaning – a person who doesn't like spending money
example – Jack is a cheapskate; he only ever buys reduced food.
get one's skates on
meaning – hurry up, be quick, stop procrastinating
example – Tell your brother to get his skates on. If he's late again, he'll be punished.
put something on ice
meaning – delay/postpone
example – I've put my house move on ice. I need to save more money so I can buy my dream home.
sell ice to the Eskimos
meaning – someone who is very persuasive
example – Paul managed to get them to buy an extra 100 units. He could sell ice to the Eskimos.
skate on thin ice
meaning – in a risky situation
example – You had your license taken away yet you're still driving? You're skating on thin ice.
skating idioms and sayings with pictures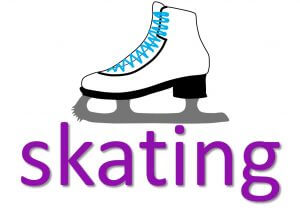 You can download a table of skating idioms and sayings below.
If you've enjoyed this page, don't forget to check out some more sports idioms by clicking on the links below.