What is archery and shooting?
Archery is a sport where a person uses a bow to shoot an arrow at a target in the distance. The closer the arrow gets to the centre; the more points are scored. Shooting is similar but using a gun instead.​
Shooting & archery idioms and sayings
Many idioms originated from shooting and archery and here is a list of them with examples.
another string to one's bow
meaning – gain another skill/ability
example – Freya has started ice skating. She wants to add another string to her bow.
as straight as an arrow
meaning – a loyal/dependable/honest person
example – Tony is a lovey guy, he's as straight as an arrow.
dodge the bullet
meaning – avoid something bad
example – My ex has been jailed. I dodged the bullet there.
give something one's best shot
meaning – try your best
example – He gave it his best shot, but unfortunately, he didn't get the job.
hit the bull's eye
meaning – achieve the best result
example – We really hit the bull's eye with our latest product. The customers are loving it.
shoot someone/something down
meaning – reject
example – The council shot down plans for a new entertainment complex.
shoot the breeze
meaning – have a casual chat without purpose
example – Let's go to the park and shoot the breeze all afternoon.
Shooting & archery idioms and sayings with pictures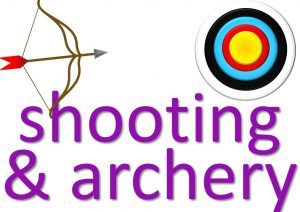 You can download a table of shooting and archery idioms and expressions below.
If you've enjoyed this page, don't forget to check out some more sports idioms by clicking on the links below.