Dancing as a sport usually consists of a couple who perform routines in front of judges and are marked against the other couples to find a winner. Obviously, we all cut some shapes on the dancefloor for fun after a few drinks.​
dancing idioms and expressions
Many idioms originated from dancing and here is a list of them with examples.
dance to someone else's tune
meaning – be controlled by another person and comply with their demands
example – I have to dance to my mum's tune, or she'll kick me out.
get off on the wrong foot
meaning – begin a friendship badly
example – I always get off on the wrong foot with people. I think I come across a little arrogant.
have two left feet
meaning – you can't dance
example – Jasper asked me to the prom. I turned him down as he has two left feet.
keep one's feet on the ground
meaning – remain calm and sensible after becoming successful
example – My multimillionaire dad still sees his school friends and drinks cheap wine. He keeps his feet on the ground.
keep someone on their toes
meaning – be alert, focused, concentrate or ready for anything to happen
example – The CEO is coming on Tuesday, you all need to be on your toes.
make a song and dance about something
meaning – be excessive/unnecessary and exaggerate/dramatize things
example – My kids always make a song and dance when I make them eat vegetables.
put one's best foot forward
meaning – attempt to make a good impression/try your best
example – The boss is coming to the office today, I'll put my best foot forward.
dancing idioms and expressions with pictures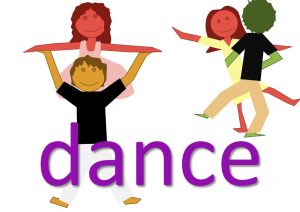 You can download a table of dancing idioms and expressions below.
If you've enjoyed this page, don't forget to check out some more sports idioms by clicking on the links below.