A thumb is the short thick digit that is attached to the hand. Humans have four fingers and one thumb on each hand. The plural is 'thumbs'.
FUN FACT – When pronouncing the word 'thumb', just remember…the 'b' is silent. We have lots of silent letters in English.
thumb idioms list
Let's look at some popular body idioms that contain the word 'thumb'.
all fingers and thumbs
meaning – a clumsy person
example – Don't pass the ball to Hannah, she's all fingers and thumbs.
rule of thumb
meaning – a basic rule that isn't always followed
example – A rule of thumb is 300 grams per person.
stick out like a sore thumb
meaning – be very obvious
example – Don't wear fancy dress costume to a black-tie event. You'll stick out like a sore thumb.
thumbs down
meaning – a sign of disapproval/rejection
example – The manager gave the thumbs down to my new marketing idea.
thumbs up
meaning – a gesture of approval
example – My mum gave me the thumbs up when she met my hunky boyfriend.
twiddle one's thumbs
meaning – be bored/have nothing to do
example – It poured down all weekend, so I just stayed in and twiddled my thumbs.
under the thumb
meaning – under the complete control of another person
example – My boss is completely under my thumb. if I ask for a pay rise, I'll get one.
thumb idioms list with pictures
Here's some real life picture examples.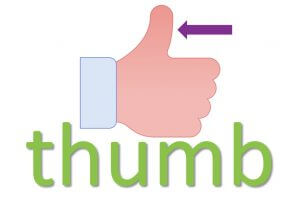 You can download a table of 'thumb' idioms and expressions below.
If you've enjoyed this page, don't forget to check out some more body idioms by clicking on the links below.