The throat is the passageway at the back of the mouth where air and food pass through. The plural is 'throats'.
FUN FACT – The throat helps us pronounce 'voiced sounds' in English. If you don't know what voiced and voiceless sounds are, I recommend finding out! It will really help with your pronunciation and help you sound like a native.
throat idioms list
Let's look at some popular body idioms that contain the word 'throat'.
at each other's throats
meaning – two or more people are arguing/fighting
example – The kids are driving me mad. They've been at each other's throats all weekend.
cut-throat
meaning – ruthless/relentless people or companies
example – The fashion industry is cut-throat.
force/ram something down someone's throat
meaning – force someone to accept/agree with your ideas or beliefs
example – I love discussing things, but I hate it when tammy forces her opinions down our throats.
get a lump in one's throat
meaning – the tight feeling in your throat due to sadness/emotion
example – We had lumps in our throats whilst watching that documentary on dairy farming.
have a frog in one's throat
meaning – someone can't speak as their mouth is dry and they need to cough
example – The presentation went badly. He had a frog in his throat so couldn't get the words out.
jump down someone's throat
meaning – respond to someone with anger
example – Lisa jumped down my throat when I asked about her new job. Maybe she got fired!
throat idioms list with pictures
Here's some real life picture examples.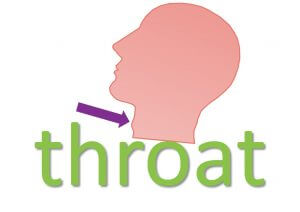 You can download a table of 'throat' idioms and expressions below.
If you've enjoyed this page, don't forget to check out some more body idioms by clicking on the links below.