A bone is the hard white material that stops the body being floppy. All the bones in the body are connected and form the skeleton. The plural is 'bones'.
bones idioms list
Let's look at some popular body idioms that contain the body part 'bone'.
a bone to pick
meaning – have something to discuss or argue with another person
example – Tell your brother I have a bone to pick with him about the money he owes me.
as dry as a bone/bone dry
meaning – very dry
example – Let's get a drink, my mouth is bone dry.
bag of bones
meaning – very thin
example – I think grandma is sick, she's a bag of bones.
chilled to the bone
meaning – very cold
example – Let's get out of the pool and get a coffee. I'm chilled to the bone.
feel it in one's bones
meaning – you sense something is going to happen
example – She will get the promotion; I can feel it in my bones.
grow a backbone
meaning – stop being a wimp and stick up for yourself and your beliefs
example – Melody should grow a backbone. She isn't employed to make the coffees.
skeleton in one's closet
meaning – an embarrassing/damaging secret
example – I'm seeing a guy; I think he has a few skeletons in his closet.
skin and bones
meaning – very thin and underweight
example – We found a sick dog on the street. He was skin and bones and infested with maggots.
work one's fingers to the bone
meaning – work very hard
example – My dad worked his fingers to the bone then dies a week after he retired.
bones idioms list with pictures
Here's some real life picture examples.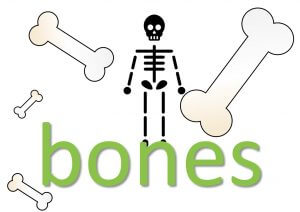 You can download a table of 'bones' idioms and expressions below.
If you've enjoyed this page, don't forget to check out some more body idioms by clicking on the links below.